The future of gas
By Nichola Hughes, Director, Sustainable NI
It's the elephant in the room. The issue nobody wants to talk about, but we need to if we're ever going to transition away from it. The news about soaring gas prices has made it painfully clear that our economy is still heavily reliant on natural gas.
In a statement the Utility Regulator of Northern Ireland said: "Unfortunately, NI electricity and gas consumers will face further significant increases to their energy bills this winter. This is due to unparalleled rises in global wholesale gas markets, never experienced before." Business leaders have warned that without help some firms could be forced to close because of the steep rise in prices.
Why are gas prices so high?
The hike in prices is a result of a worldwide squeeze on gas and energy supplies. The unexpected economic bounce back following the pandemic coupled with the cold winter experienced in Europe last year has put pressure on supplies and, as a result, stored gas levels are much lower than normal. In addition, there has been increased demand from China for liquefied natural gas.
Following the announcement the usual media frenzy followed. The UK Government's response is, quite rightly, focussing on protecting the most vulnerable in society through emergency income support for energy-poor consumers. However, Northern Ireland does not have the Warm Home Discount scheme which, in GB, offers hard-pressed households £140 off their power bills. Poor energy efficiency, low income rates and high energy prices mean that fuel poverty in Northern Ireland is rife. It is thought that around 22% of households in Northern Ireland live in fuel poverty (Source: Department for Communities). There is some financial support for the fuel poor in Northern Ireland from the Affordable Warmth Scheme but this is strictly targeted at low-income households. So, if you are in the squeezed middle, there is little help available.
So, what's the solution?
Although the spike in energy prices is significant, it is not unprecedented. Fossil fuels are, after all, a finite resource and global energy markets are volatile. As long as we are reliant on fossil fuels, these so-called 'energy shocks' will keep happening.
So what's the long-term solution? There is a train of thought, among some, that the best way of protecting consumers from energy hikes is to develop national gas reserves. Whether it be new indigenous biogas or storage facilities for imported gas. The latter was the line of thinking behind a controversial plan to develop a gas storage facility under Larne Lough at Islandmagee, which has recently received a marine construction licence enabling the project to move ahead. 
The project, costing £300 million and more than 10 years in the making, will see the construction of seven gas storage caverns under Larne Lough. Once fully operational, the units will hold around 500 million cubic metres of natural gas and provide security of supply during peak demand for up to 14 days for Northern Ireland. 
The company behind the project, Infrastrata, claim: "The project will secure supply and protect against extreme volatility in gas and power prices in the UK". They go on to say: "For every £1 million of capital expenditure, a further £2 million will be created in the economy per year". However, no economic figures are provided for the costs and damages arising from climate change due to the prolonged use of natural gas facilitated by the investment. (Source: Larne Times)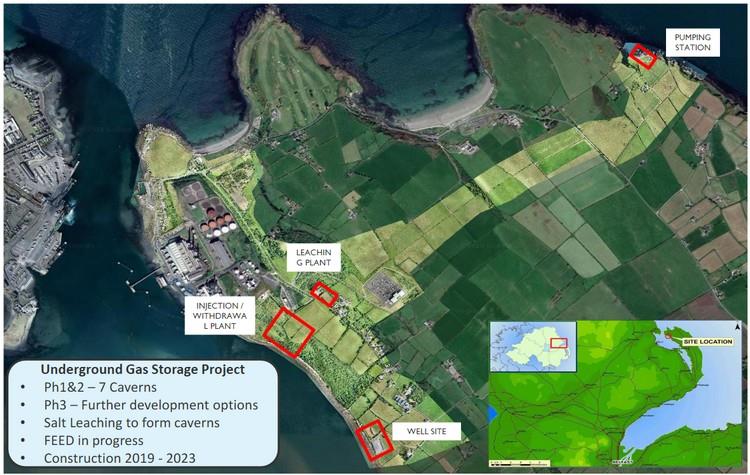 Above: An aerial view of the Islandmagee Underground Gas Storage Project
The project is controversial not only because it represents a large-scale investment in a carbon-based economy, but the construction of the caverns has the potential to cause significant ecological damage to Larne Lough which is an Area of Special Scientific Interest (ASSI). 
Opponents of the scheme have expressed fears that the dispersal of large quantities of brine into this stretch of seawater could be detrimental to porpoises and puffins, two protected species, as well as other marine life when millions of tonnes of rock salt are dissolved at high pressure. Despite opposition from local community groups and the NI Marine Task Force – a coalition of environmental NGOs – a marine licence for the project was granted by the Department of Agriculture, Environment and Rural Affairs, which ironically is the department responsible for environmental protection and regulation.
If coal is like heroin, due to its negative impacts on climate and air, natural gas is equivalent to methadone. Slightly more benign but still highly addictive, subject to global market volatility and inherently bad for the planet. So that begs the question, why is the Government facilitating a £300 million investment in gas infrastructure which is considered by many to be yesterday's technology? And why is the department responsible for environmental protection, granting a marine licence for underwater gas storage in a protected site?
Some believe gas offers a quick fix to the energy conundrum. It is dubbed a 'transition fuel' in recognition of the fact that whilst gas isn't the optimal solution, it is a 'necessary' part of the energy transition whilst other zero-carbon solutions become more widely available. Islandmagee Energy has longer-term ambitions to store hydrogen from surplus renewable energy, which would in theory offer the project a green exit strategy. But is this just a wolf in sheep's clothing? An attempt to 'green up' a project that is highly polluting and at odds with our national climate change commitments.
Meanwhile, in Westminster, the UK government has announced that by 2025 all new homes will be banned from installing gas and oil boilers and must instead be heated by low-carbon alternatives. Replacing a gas boiler with a low carbon alternative like a heat pump can save a four-bedroom house up to £1,300 annually on their heating bills and help us meet net-zero goals. This sounds great, but somewhat out of step with what's happening in Northern Ireland.
The Northern Ireland Housing Executive, for example, is still giving out grants to replace old inefficient boilers with new gas and oil condensing boilers. And the Executive has invested hundreds of millions to extend the gas network into the west of Northern Ireland, supporting the rapid expansion of the gas industry. To avoid the risk of stranded assets, the Department for Economy indicated in its Energy Strategy Policy Options Paper that getting biomethane into the gas grid as quickly as possible was going to be a priority. But it is worth remembering that biomethane is not a 100% greenhouse gas free solution, and depending on how it is produced, transported and processed it can either help or harm the climate.
The tragedy of the horizon
The tragedy here is that the time horizon of the normal business cycle – and political cycle – is measured in just a few years. Regulators, companies, and central banks, often look only two or three years ahead. Climate change, on the other hand, takes place over a much longer time horizon as the worst impacts of climate change won't be felt for another few decades, by which time it will be too late to reverse.
From an economic perspective, markets typically move on two things: 'fear and greed', or 'risk and opportunity' to put it in more palatable terms. Landmark investments, like the one at Islandmagee, ought to be going into climate-positive projects and away from the things that are exacerbating the climate crisis. Like new coal and new nuclear power, investment in gas is a serious distraction from badly needed investment in renewable energy. To overcome this, Government must urgently place an economic value on zero-carbon solutions. It must demonstrate wisdom, long-term thinking, and above all leadership. It must tackle the problem head-on, not just look for a quick fix.
Climate change is an existential threat. If you're solving an existential risk, if you're part of the solution and not the problem, it's a tremendous market opportunity. Governments around the world are beginning to realise this. The Scottish Government has approved a green hydrogen plan for Orkney, which will see an oil terminal converted into one of the world's first large-scale green hydrogen plants using nearby offshore wind power to drive production (Source: BBC). Perhaps Northern Ireland should take a leaf out of Scotland's book, by leapfrogging to tomorrow's technologies instead of clinging on to the technologies that got us into this mess in the first place. 
By and large, we should rely on zero-carbon energy sources like wind and solar to generate electricity, and then electrify as many end-uses (such as ground transport and buildings) as possible. Biogas may have a role to play in niche applications, such as heavy industry, but we must resist the temptation of encouraging the generation of bio-waste for the sole purpose of creating biogas to fuel our economy. After all, although capturing and using methane is better than allowing it to escape to the atmosphere, burning gas still has a climate impact and lifecycle impacts will have to be closely regulated to ensure we aren't doing more harm than good.